Scouts BSA Summer Camp at Camp Mitigwa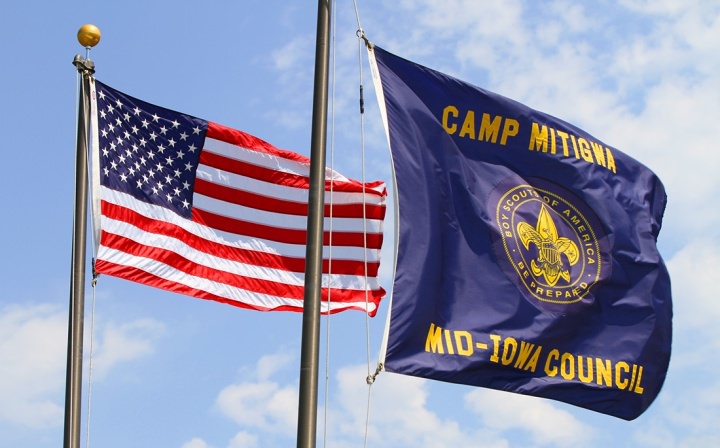 Outing is the heart of Scouting…
The promise made to every youth when deciding to give Scouting a try and join a troop in the neighborhood is that of outdoor adventure. The imagination of an 11 year old runs rampant when it comes to the adventure of the out of doors.
Mitigwa Scout Reservation
Mitigwa Scout Reservation is one of the finest Scout camps in the Midwest, providing residential Summer Camp programs for Scouts at Camp Mitigwa and for Cub Scouts at Camp Akela, plus year-round camping opportunities for all. The reservation boasts 450 acres of rolling river valley land with a rappelling tower, a swimming pool, campsites, dining hall, and so much more. Learn more about Mitigwa Scout Reservation here.
Mitigwa Scout Reservation takes safety seriously. Review our Risk Advisory by clicking here.
2019 Scouts BSA Summer Camp
2019 Summer Camp Fees
Registering for Camp:
Units may register for a campsite using Tentaroo via the Mid-Iowa Council website. A $100 deposit is due at the time of reservation as well as an estimated number of adults and youth. Leaders will need to upload their unit roster with the names of youth and adults that will be attending camp, via Tentaroo, by March 1, 2019. All campers, youth and adult, must be named and any spots that were estimated but not named should be removed. On April 1, 2019, you will be charged for all named and any estimated spots remaining. Any reduction in numbers after April 1, 2019, will be considered a cancellation and the cancellation fees will apply. There will be a $150 minimum payment for each youth that is named. Merit Badge class registration opens March 1, 2019. Units may only register for Merit Badges after the $150 minimum payment per youth is made. This deters units from signing up youth who will not make it to camp and filling Merit Badge slots that may be better used to serve other units. Fees must be paid in full by April 15, 2019, to get the early rate. All accounts not paid after April 15, 2019, will be charged at the regular rate.
All-Star Troop
The All-Star Troop is a chance for Scouts to get to go to camp that might not be able to attend with their unit. Parents and Troop leaders may register their individual Scouts for the All-Star Troop for Week 4 or Week 5 of summer camp through Tentaroo. Payment schedules apply regardless of camping as a traditional unit or with the All-Star Troop.
All-Star Campsites
Week 4 - Kick-A-Poo
Week 5 - Chippewa
Camp Refund Policy:
The campsite reservation deposit is non-refundable. It will be used to help pay total unit fees. From April 1, 2019 to May 31, 2019 there will be a $100 fee for any Scout or adult that is cancelled, though transfers are allowed. Starting June 1, 2019 there are no refunds allowed. The Council Refund Policy can be found here: Council Refund Policy
Scout Fees
Adult Fees
$280*
Through April 15, 2019
$130*
$305
After April 15, 2019
$130
*Newly Registered Scouts or Leaders will be guaranteed the early registration fee with a copy of completed application.
2019 Camp & Class Schedules
The camp and class schedule are also available in the Program Guide below along with much more camp information. Click on the images below for the single page schedules.